Home >> Process and Quality >> Development Methodology
Development Methodology
Competition-Based Methodology…

Software engineering is the practice of using selected process techniques to improve the quality of a software development effort. Each enterprise brings unique challenges to the development process. The majority of the development

Acendion Consulting Services

undertake cannot be fit into any single methodology or protocols. Hence there are many methodologies used by

Acendion Consulting Services

tailored with client needs.

The most common software methodologies used by

Acendion

are as below:



Waterfall model

The waterfall model is a sequential development process, in which development is seen as flowing steadily downwards (like a waterfall) through the phases of Conception, Initiation, Analysis, Design (validation), Construction, Testing and maintenance.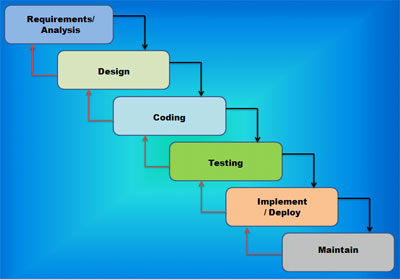 Waterfall Methodology for Software Development
Agile software development



Light-weight methods…



The agile method emphasizes face-to-face or telephone contact between the developer and business experts rather than written documentation.  Working software, rather than progress reports, communicates success to the client during the development process.



Following are the advantages of using the agile software development methodology:




Very high levels of Customer satisfaction and confidence by rapid and continuous delivery of working software
Working software is delivered frequently
Working software is the principal measure of progress
Even late changes in requirements are welcomed
Close, daily cooperation between business experts and developers
Face-to-face or telephone conversations are the best form of communication
Continuous attention to technical excellence and good design
Simplicity
Regular adaptation to changing circumstances
Bottom Line:



One size does not fit all…



IT Managers have an important decision to make when deciding on a Waterfall or Agile methodology for a software development project. For further information about the Development Methodology and how

Acendion Consulting Services

will help you. Please Contact Us
How may we help you?
Contact Us
To discuss how we can
help your organization, call

+45 31 55 22 21 (Denmark)
+91 97 18 97 94 48 (India)
or

Send us an e-mail


or

Contact Us