Home >> Service Offering >> Hybrid Delivery Model
Hybrid Delivery Model
In Onsite / Nearshore / Offshore (Hybrid) Delivery Model, the outsourcing work is distributed between the service providerís onsite center and the offshore development center & thereby the client gets the advantage of both types of outsourcing models. It is one of the most successful and popular outsourcing models employed today by many companies.

The distribution of work depends on the type of project. Usually 20-30% of the work is done by the onsite center and the rest is done by the offshore development center.

The below picture demonstrate the procedure used by

Acendion Consulting Services

to meet the customers requirement around the world in using the Hybrid Delivery Model.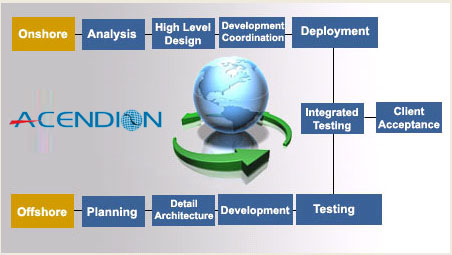 Tasks accomplished at the onsite center include:

Gathering initial information about the project through direct interaction with the client.
Understanding the requirements/specifications clearly.
Planning and initial designing as to how the project will go about.
Interact directly with the clients to accommodate any changes, if there are any, so as to minimize/eliminate last minute changes.
Execution/Implementation of the project in accordance with clientís expectations and making sure that the client is fully satisfied with the end results.
Dealing with the client and managing partnership.

Tasks accomplished at the offshore development center include:

Understand the specifications and come up with a detailed design.
Responsible for the progress of the project.
Ensuring that the outcome matches to the specifications given by the client.
Crucial and continuous support to the onsite center.
Advantages of Hybrid Delivery Model:



Direct dealings with the client:
Direct interaction with the client is possible through the onsite center. So no possibility of communication gap. Also the service provider gets a better picture of the clientís needs.


24/7 productivity:
Round the clock continuous work cycle becomes possible by making the best possible use of the time-zone difference.


Access to the most excellent resources:
Client can have access to the best technology, skilled manpower and equipment possible made available to them by the offshore development center.


Great cost benefits:
Cost savings resulting from majority of the work being outsourced to the offshore development center where the resources are comparatively cheaper.


Best possible management of resources:


Usage efficiency of resources is highest with this model. For further information about the Hybrid delivery model and how

Acendion Consulting Services

will help you. Please Contact Us
How may we help you?
Contact Us
To discuss how we can
help your organization, call

+45 31 55 22 21 (Denmark)
+91 97 18 97 94 48 (India)
or

Send us an e-mail


or

Contact Us