Home >> Acendion in Focus >> SAP Archiving Service
SAP Archiving Service
'Data Archiving is the process of removing mass data from the SAP database combined with ongoing storage of this data on to secondary media. After removal, this archived data is still accessible to end users via their SAP Standard Interfaces or the third party tools. The large volumes of data accumulating in the SAP R/3 database has significant impact on system performance, dialog response times, time required for backup the system and finally overall cost of utilization'.
Data Archiving Procedure:
The below diagram shows the steps which will involve during data SAP Data archiving.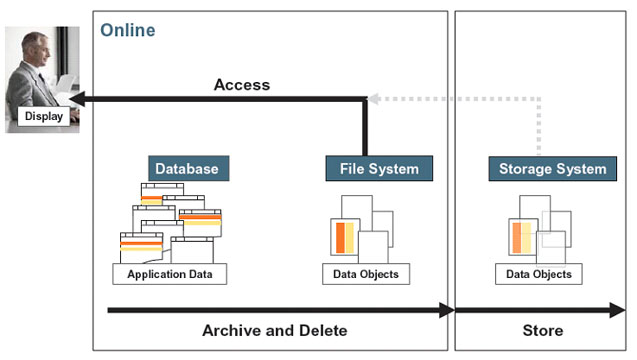 Information Lifecycle Management
Information has a life cycle: It is created, it lives within databases and systems, it changes, and it is archived and eventually deleted. How we create, store, retrieve, and delete it is termed information lifecycle management (ILM). ILM is comprised of the policies, processes, practices, and tools used to align the business value of information with the most appropriate and cost effective IT infrastructure from the time information is conceived through its final disposition.
Information Lifecycle Management has four phases.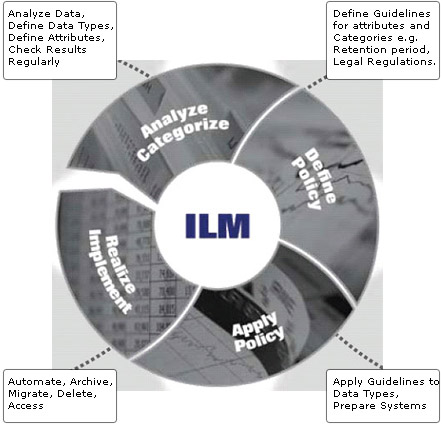 Data archiving Benefits:

System availability:
Faster and easier upgrade to higher software releases.
Shorter runtime for backup and recovery.

Use of resources:
Reduced hardware costs for Disk, CPU, Memory as well as administration costs.
Ensures cost efficient system upgrades or migrations.

System performance
Shorter response times in dialog mode for all employees.
Manages growth and reduces system backup and restore Downtimes
Reduces costs to maintain and run a growing application infrastructure

Legal Compliance
Meeting data retention requirements and setting up end-of-life scenarios.
Why Acendion?
Acendion has the experience consultants in SAP Data archiving and helping the customers around the world. Our services include the SAP data assessment, helping customer to understand SAP Data archiving concepts, archiving infrastructure and impact on applications and end users.
For further information, Contact Us