Home >> Acendion in Focus >> SAP Upgrade Services
SAP Upgrade Service
SAP Enterprise Software is notorious for fast moving product feature and enhancement releases. A common industry release strategy finds the average software major version release occurring about every other year. In addition, maintenance costs for older SAP R/3 releases are rising, making the newer version much more cost effective. Moreover, business users pressure you for more business process innovation and you need to meet regulatory or other requirements at the same time.
New version releases also present the opportunity for replacement of custom code that may have been required by older versions with new configurable product options. Any opportunity to recognize the chance to replace custom code with configuration helps to lower total cost of ownership through the simplification of application maintenance. Acendion Consulting Services uses the SAP ASAP Methodology to construct all version upgrade project task lists.
Acendion Upgrade Approach : Lifecycle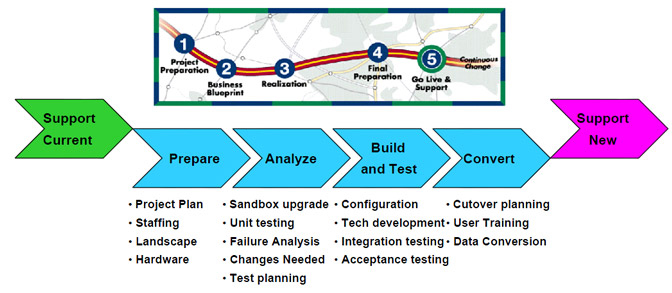 Improve Continuously
Acendion Approach : Technical Upgrade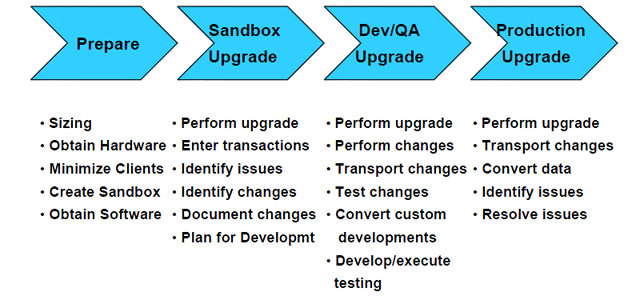 Repeat until Perfect
Acendion Approach: Functional Upgrade

Best Practice Design, Thorough Testing
Acendion Approach: Knowledge Transfer

Learning by Doing
Why Acendion?
We use proven methodologies and best practices, drawing on our significant experience in assessing, planning, and implementing SAP Upgrade Project. We have SAP upgrade partners, who have successfully completed SAP upgrade projects around the world. Our expertise will minimize production system down-time and mitigate the business risk.
For further information, Contact Us